Strong, durable
filaments with high
thermal resistance
for effortless printing
of end-use parts,
functional prototypes
and low volume
manufacturing.
Open
Material System

Use LOOP PRO X dedicated
DYNAMIDE® materials or create
your own presets for third party
filaments with open parameters
that can be changed in LOOP 3D
CLOUD 2.0 software.
Unparalleled
Surface Quality
Key to exceeding standards
by LOOP PRO X is a dedicated
material blend connected to
software and hardware working in
a perfect harmony.
Functional
End-Use Parts
High-end composite materials
with high thermal resistance allow
to print strong and durable end-use
parts and models.
Carbon Fiber
Reinforced Polyamide
Glass Fiber
Reinforced Polyamide
Alternative to ABS
Soluble Support
Polyamide 6

Density
Density
Density
Physical Properties
Physical Properties
Physical Properties
Physical Properties
Test Method
Test Method
Test Method
Test Method
Property
Property
Property
Property
DSC, 10
0
C
220
0
C, 10 k
220
0
C, 2.16
DSC, 10
0
C / min
Melting Temperature
Melt Index
Melt Index
Melting Temperature
ASTM D792
ASTM D792
ASTM D792
ISO 75 1.8 MPa
ASTM 1525
ISO 1183
ASTM 1525
Heat Deflection Temperature
Vicat Softening Temperature
Density
Vicat Softening Temperature
ISO 75 0.45 MPa
DSC, 10
0
C / min
DSC, 10
0
C / min
Heat Deflection Temperature
Glass Transition Temperature
Glass Transition Temperature
Mechanical Properties
Mechanical Properties
Recommended Printing
Conditions
Mechanical Properties
ASTM D638
ASTM D638
ASTM D638
Tensile Strength
Tensile Strength
Nozzle Temperature
Tensile Strength
85 MPa
48.3 ± 0.8 MPa
215 - 225
0
C
25 - 60
0
C
66.2 ± 0.9 MPa
135 MPa
73.4 ± 2.1 MPa
97.0 ± 1.1 MPa
ASTM D790
ASTM D790
ASTM D790
Flexural Strength
Bending Strength
Bending Strength
Bending Strength
3.5%
6.7 ± 0.6 %
30 - 40 mm/s
9.9 ± 1.5 %
ASTM D638
ASTM D638
ASTM D638
Elongation at Break
Elongation at Break
Elongation at Break
Elongation at Break
Property
Property
Property
Property
T

est Method
T

est Method
T

est Method
X-Y Axis
X-Y Axis
Value
X-Y Axis
Value
Value
Value
Value
215
0
C
25
(g/10 min)
7.8 (g/10 min)
1.2
(g/cm
3
)
1.1
(g/cm
3
)
1.12
(g/cm
3
)
122
0
C
105.3
0
C
1.13 (g/cm
3
at 23
0
C
180
0
C
190
0
C
190
0
C
97.8
0
C
67
0
C
61.5 MPa
2.8%
Physical Properties
Mechanical Properties
Density
Test Method
Property
DSC, 10
0
C
Melting Temperature
ASTM D792
ISO 75 1.8 MPa
Heat Deflection Temperature
ISO 75 0.45 MPa
Heat Deflection Temperature
Value
219
0
C
1.17
(g/cm
3
)
195
0
C
214
0
C
ASTM D638
Tensile Strength
105 MPa
165 MPa
ASTM D790
Flexural Strength
3%
ASTM D638
Elongation at Break
Property
T

est Method
X-Y Axis
66 MPa
3%
Z Axis
Z Axis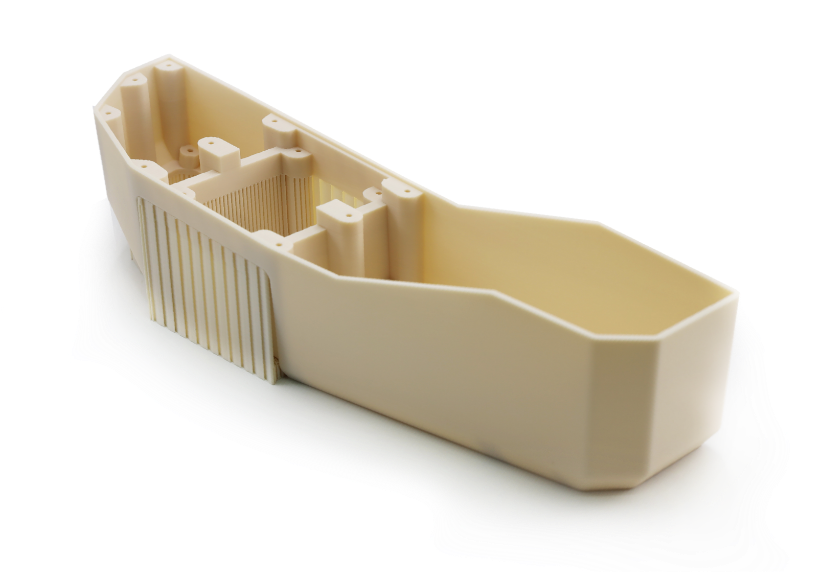 Applications